ConferTel Ensures Conference Call Confidentiality with Secure Entry Passkeys
Conference calls pose a serious security risk for businesses. ConferTel's exclusive call security features ensure ultimate protection and privacy for virtual meetings.
Carlsbad, CA (PRWEB) December 08, 2014 ConferTel, a value-added provider of audio, web, operator-assisted, and webinar services, offers enhanced call security with access exclusivity for organizations that require the highest level of privacy and confidentiality for their conference calls.Today's widespread and highly accessible conferencing environment presents a significant security risk for those organizations that rely on conference calling to distribute sensitive or proprietary information to their constituents. ConferTel's advanced security features provide the ultimate protection in confidentiality and call security for your mission-critical meetings and other essential communications.
Teleconferences present an inherent security risk due to the use of a shared participant passcode. Passcodes can be exposed, voluntarily or otherwise, to a very large number of people. Some businesses promote their conference calls online, proactively advertising their passcode. Others are surprised to find their passcode revealed through a web search. A shared passcode compromises your ability to identify and control who is listening. What value is a post-conference report if the damage is already done or if the phone numbers have been concealed or are untraceable? Security-conscious businesses need more privacy and protection.
ConferTel provides many levels of call security, based on client needs. At the highest level, Secure Passkeys are unique for each participant and enable invitation-only entry. ConferTel's exclusive security feature assigns a permanent, semi-permanent or single use Passkey (PIN) to each participant. Because the PIN is unique to each participant and limited to a single admission, Secure Passkeys eliminate the risk of intrusion and eavesdropping. Each participant can be fully identified by name, organization and phone number, and monitored online as well as fully documented in a post-conference call summary report.
To learn more about ConferTel's exclusive Secure Conferencing Services, call 866-930-4500 or email.
About ConferTel
ConferTel, a Civicom company and Buy-it-Forward proponent, is a software developer of IVR and web-based information services and communication solutions. Providing a range of event-driven applications, including managed and do-it-yourself webinar services, audio and web conferencing, operator assisted event calls and on-demand record/replay services. ConferTel's innovative products and application development capabilities have helped clients work smarter, increase sales and enhance productivity. We offer a consultative approach to developing the right communications solutions for your specific needs and budget. For more information, visit www.confertel.net. Buy-it-Forward companies are committed to giving a significant portion of their profits to worthy causes. Please visit www.buyforward.org and help spread the word! Together we can make the world a better place.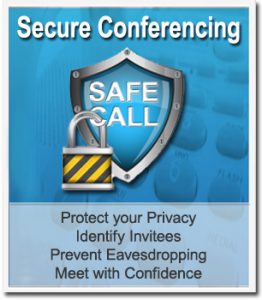 "Teleconferences present an inherent security risk due to the use of a shared passcode. Secure Passkeys offer enhanced call security with access exclusivity for those requiring the highest level of privacy and confidentiality for their conference calls."