Secure Conference Call Service

Ideal Solution for Utmost Confidentiality:

   Financial Reporting and Board Meetings

   HR & Intellectual Property Discussions

   Marketing & Strategic Planning

   SWAT Teams
Protect Your Privacy and Meet with Confidence
Conference calls that share sensitive or proprietary content demand the protection of a secure conference call platform and features that enable more control of participant access, identification and monitoring. With highly sensitive conference calls, you need more than the typical unrestricted passcode that is shared permanently for every conference call. With ConferTel's secure conference call services, you can rest assured that only invited guests are permitted entry and accounted for during your conference call.
Unique Passkeys — Secure Entry and Tracking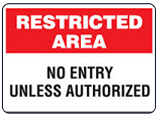 Unlike a typical conference call where participants share a common passcode, our exclusive Unique Passkey feature lets you assign each participant a unique PIN. This eliminates the possibility of uninvited participants as each passkey is limited to a single admission and is identified and tracked (by name, organization and phone number) in our Online Call Hub Pro Monitor and post-conference call summary report. Passkeys can be (semi) permanent or single-use for each call.
Call Hub Pro — Online Call Monitoring and Control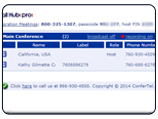 Identify who's on your call based on data that was captured during registration, surveys and polling. Pre conference call monitoring confirms that VIP's are aboard before starting your call. Call Hub Pro can also be used to pre-qualify and prioritize the Q & A queue, based on participant identity.
Locked Calls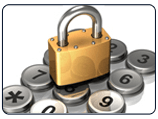 You can lock your conference so that no one else can enter the call even with a shared passcode or unique passkey. Conference calls can be locked through a telephone key press or online in the Call Hub Pro Monitor.
Post-Conference Call Summary Reports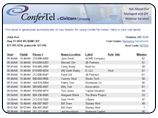 Add a little energy to your conference with Audibles — like applause, cheers, laughter, drum roll, happy birthday, boos and buzzer. After every conference call, you will get a Call Summary report listing each participant, their entry, exit and duration times, and the telephone number they called from. Recorded roll call names are available in the Call Summary, which is emailed and archived for you in your online account. See an example of a Call Summary Report
InSummary – Meeting Minutes Summary Service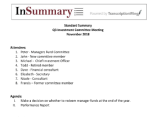 With our audio transcription service, you will no longer need to write down meeting notes. Simply record your meeting and TranscriptionWing can create summaries in an easy-to-read, outlined format (i.e. bullet points) based on the information captured in your recordings. It's more accurate than writing notes after attending consecutive meetings, where attendees are prone to forget important details. Be assured that the main points of your meeting are captured and that your transcriptions are accurate and complete.
Dial Out to Participants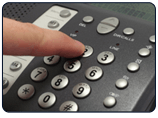 To protect access to your conference and control distribution of your phone and passcode credentials, you can easily dial out to any participant. You might Dial Out to a one-time participant like a job candidate for a group interview to avoid sharing your access information and to restrict timing of their entry. Dial Out can be used for domestic or international participants, and is toll-free to the participant.
Online Registration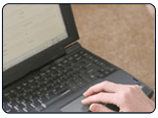 You can require participants to register via a registration page to help you manage participant identification and tracking. Bearing your company branding, the registration page can be accessible from an email invitation or posted on a web page. You receive a daily, weekly or transactional notification with each registration.
Conference Planner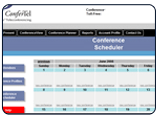 Moderators can create easy-to-use event profiles for recurring conferences to expedite scheduling, automate attendee notification, reminders, and identify Conference Room attendees by name in addition to phone number.
Roll Call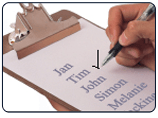 Know exactly who is on the call at any given time including during pre and post conference. Participants will be instructed to record their name before entering conference. Name recordings are stored for optional Roll Call playback and Name Announcement (when joining or leaving a conference). Get a playback of all participant names, recorded in their own voices. Roll Call can be heard by everyone in the conference or just by the Moderator and is archived and available in post-conference call summary reports.
End Notes – Summaries of Meeting Key Points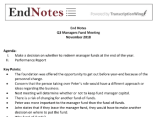 End Notes are transcriptions of client-specified key points or action item summaries from meetings or conference calls. Instead of going over every minute of a long call recording, you only have to record the last few minutes of a call containing the action items or key points. Our transcription service can then transcribe the recording for you and you will have a transcription of the summary rather than the entire call.
Give us a call today to find out how you can secure your conference calls 866-930-4500.