Best Conferencing Features On The Planet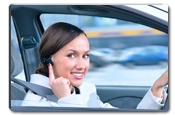 Hands-Free Conference Entry – eyes on the road!
Entering a passcode on a phone that is at your ear can be frustrating. Now you can just say it. This is a big deal for someone who is travelling, multitasking, and juggling a phone up and down from his ear to enter a passcode by hand. It might also be a safety issue. Call us to turn this feature on for your company.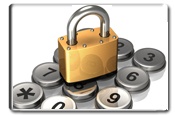 Unique Passkeys – secure entry codes:
Unlike a typical conference call where participants use an identical passcode, our exclusive Unique Passkey feature lets you give each participant a unique PIN. This eliminates the possibility of uninvited participants because a Passkey is unique; if you've invited six participants, there cannot be seven on the call. You can assign a name to each Passkey and then see who is on the call by signing into your account. Passkeys can be disabled and/or added for future conferences.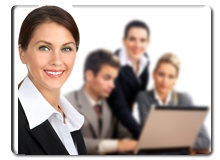 Webinars and Managed Events
Deliver professionally managed webinars conveniently and cost effectively. We offer fully managed services or can give you all the tools to do-it-yourself and do-it-well. Managed or D-I-Y, we take care of all the administrative details from branded registration (with optional payment processing) to closed captioning, surveys and certificates of completion. Our managed services include additional program consultation, coordination, and scripting. Our professional operators to introduce your speakers, coordinate Q&A and provide technical assistance during the call. We are the WebinarExperts@YourService!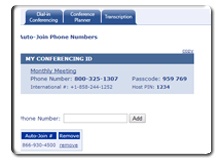 Auto-Join – Just dial:
Our system can recognize your caller ID without the need to manually enter a passcode, (for security purposes you will still have to enter your 4-digit Moderator PIN). To join with a different passcode, press any key. Simply set this feature up in your account profile and the setting remains for every conference call you have from that point on.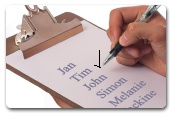 Name Announcement and Roll Call:
Participants will be instructed to record their name before entering conference. Name recordings are stored for optional Roll Call playback and Name Announcement (when joining or leaving a conference). Know exactly who is on the call at any given time including during pre-conference with the Roll Call feature. Get a playback of all participants' names, recorded in their own voices. Roll Call can be heard by everyone in the conference or just by the Moderator.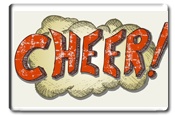 Audibles – liven-up your call:
Add a little energy to your conference with Audibles — like applause, cheers, laughter, drum roll, happy birthday, boos, buzzer.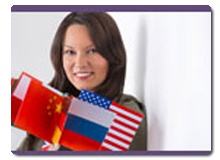 Language Options
You can set up a default conference language for all or offer your guests a choice when joining. Callers will then hear the conference prompts in the language of their choice from a selection of English, French or Spanish.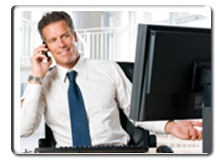 Conference Blaster – Dial out, not in.
You can enter phone numbers online and click "call now." Phones ring and you are in a conference call. Dialing out to participants is useful when participants might forget about their conference. Great for emergency sessions.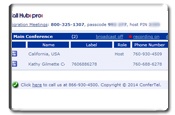 Call Hub – full operator controls:
Call Hub fully supports online Moderator controls. Simply click to mute, drop, record or dial out to a participant. All conference features are at your fingertips. For Self-Managed Conferencing Calls, Call Hub Pro gives you additional tools to professionally manage your mission-critical events. Exclusive features have been added such as Pre-Conference (green room), Active Speaker, Breakout Groups, Polling and Q&A. With Call Hub Pro you get top-drawer, concierge meeting services at a do-it-yourself price.
Green Room – Pre-Conference
Moderator/Speakers will be placed in a private pre-conference room, advised how many participants are waiting on music-hold and reminded to press 2# at any time to start the conference. Speaker teams can use this Green Room to rehearse and coordinate entry into conference.
customized billing codesAccounting Stuff – Flexible Billing & Verbal Accounting Codes
We support multiple layers of Billing Codes (e.g. cost center, project code, client matter, etc.), with profile default and on-the-fly overrides. Billing Codes can be mandatory or optional. Alphanumeric billing codes are supported through our exclusive speech recognition prompts when initiating your call. Billing Codes appear in the Call Hub, on Call Summaries and Billing Statements (by Moderator session and summarized for accounting distribution). Incorrect or missing billing codes can be updated at any time before month end. An optional Excel/CSV report containing your monthly billing data can be included with your Billing Statement.
Meeting Summaries, Transcriptions and Closed Captioning
Whether for legal documentation or just meeting minutes, our TranscriptionWing team (see below) will ensure that you get the best value for your budget. Our flexible pricing plans are geared to suit any level of urgency in turnaround timing. Our team specializes in medical, legal and financial transcriptions and captioning. Our Dial-a-Note team (see below) takes transcription to a new level, by uploading time-sensitive recorded notes and meetings into your CRM overnight! We also specialize in Section 508 Compliance captioning for online events and webinars.
OmniPresent Web Conferencing
With OmniPresent's next generation web conferencing system, you can reliably deliver rich-content presentations in a secure and versatile environment. OmniPresent sets new standards in quality, ease-of-use, reliability, scalability and customizability with advanced web conferencing features such as integrated streaming video player, interactive notepad and whiteboard, closed captioning, slide animation and multi-point webcams.
Customizable Greetings, Hold Music and Meeting Room
A branded Entry Greeting and hold music are available on a complimentary basis to all volume accounts (nominal charge for smaller accounts). A customizable playlist of recorded music is available for your on-hold participants. Our OmniPresent web platform (see below) also allows you to brand your online conference room.
Reliability
Arranging busy schedules for a conference call takes time, but once a call is scheduled you want to be able to rely on your provider to deliver without a hitch. That is why the Civicom platform is 100% redundant across two automatically failed-over and geographically dispersed locations. We have an excess of 99.95% uptime. As a leader in client-driven, innovative technology, we earn your business on every call.
Civicom offers many technology services to streamline your day-to-day business activities: