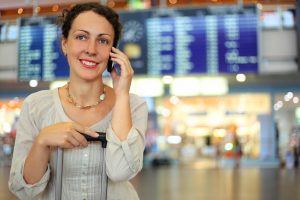 Holding a conference call can be as easy as having to push a button. You can host an important business conference call with clients and teams from across the globe as easily and as clearly as you want, as if they were just sitting on the other end of the table.
Using international conferencing, you can talk to your contacts from across the globe in a group environment, without the need to book a plane ticket and fly off to another country. Instead of having to spend a good amount of your business week in airports and terminals, catching too many international or domestic flights, spending a week in expensive hotels, or constantly traveling from one place to another, conference calls over the phone or web allow you to get into the heart of the matter wherever you are, as long as you want.
You can join or start off a brand new conversation, no matter what your preferred operating system might be: various conference call services can cater to every kind of system nowadays – it doesn't really matter if you are a PC, Mac or a smartphone user who is on iOS or Android. This allows you to be able to enjoy a fully free experience wherever you are. In case you feel like just talking and listening through a phone call is insufficient to get your message across, then plenty more conference call providers allow you to conduct conference calls in a web or video-enabled setting.
However, while this technology can be extremely convenient and efficient, it is of utmost priority for organizations to make sure that the conference call provider their using is suitable for business purposes. It's important for these conference calls to be kept secure and reliable at all times. Many services that offer secure conferencing offer features to ensure that your audio calls are equipped with industry standard security protocols and user privacy protection.
Secure Conferencing Features for International Conference Calls
Unique Passkeys – Setting a password for an international conference call is a required step to make sure that calls are kept secure and confidential. Since international calls may involve many parties from different parts of the globe, it entails a higher risk for participants coming in from various different networks. To minimize this risk, a secure conference call provider should set a unique passkey for every participant of the call. This means that if there are 5 people participating in the call, each will have his or her own unique passkey. Another security measure is to have one-time, or semi-permanent passkeys that can be retired at any time.
Pre-Conference (Green Room) – Before participants can join a conference, each user has to first wait in the "Green Room" for a pre-conference session. This is where the moderator verifies the identity of each user. This allows the company or any organization to make sure that there isn't any unverified user in the call. This is another step to secure sensitive or confidential details and avoid user privacy breaches.
Enhanced User Controls – Conference call providers now offer fully enhanced controls to their customers. For example, ConferTel has Call Hub Pro which allows a user to conduct controlled Q&A, polling, breakout groups and so on. The call host or operator is in complete control of the call, and they can an eye out for any suspicious activity during the meeting. In fact, these controls allow participants to set their own moderator in each conference call. The dedicated job of the moderator is to make sure that the call runs securely and smoothly.