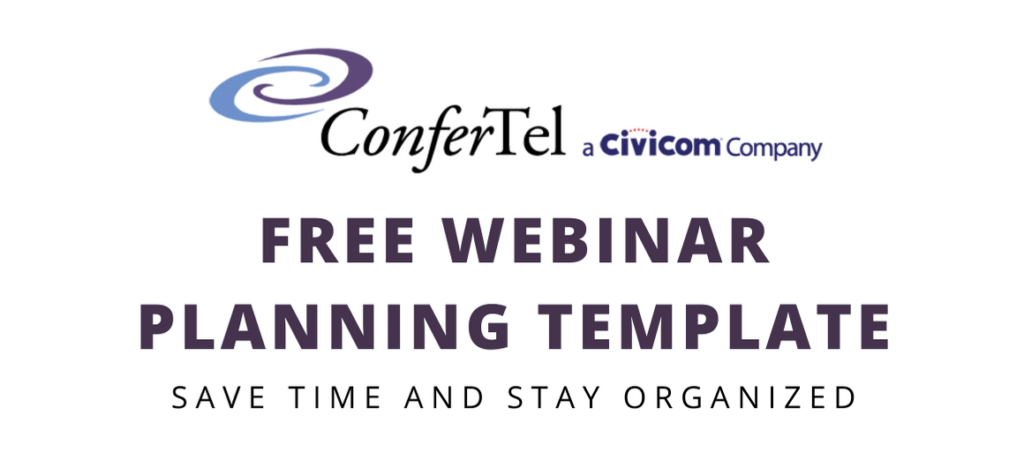 As one would expect when it comes to conducting webinars, keeping up with everything on a schedule will be difficult. Trying to stay organized will also be challenging for some as there are so many aspects to webinars that need supervision. A webinar planning template or checklist might help you ease through the whole process. Using a template as a groundwork for conducting webinars can help you save time and stay organized.
8 Weeks Prior to Your Webinar
☑ Select your target audience
Before anything, select your target audience. This will help you pick a webinar topic and give you an insight on how to promote your webinar based on your webinar audience. 
☑ Pick your webinar topic
The next thing to do is to pick the webinar topic. Make sure to pick one that's relevant and timely, yet new and fresh so that your audience will be more encouraged to join. 
☑ Select your presenters and reach out
This is also the best time to select presenters and reach out to them. If you will pick someone from your team, let them know immediately. If you're looking forward to having another expert or a thought leader in your webinar, reach out formally and let them know about your event. 
☑ Get a managed webinar service
You should also pick a managed webinar service early on. Make sure you get one that is a full-service platform with complete solutions and features, from the registration, the slide presentation, security and privacy, reporting, and more. 
7 Weeks Prior to Your Webinar
☑ Select the date and time of your webinar
It's time to polish the details of your webinar. Select the appropriate date and time of your webinar, and make sure it's on a weekday to maximize the attendance rate. 
☑ Determine the length of your webinar
Webinar statistics say that the average length of a webinar is 39 minutes and the average view time is 22 minutes. This means that your webinar shouldn't be longer than an hour, and no shorter than 30 minutes. 
☑ Delegate tasks to your team
Start delegating tasks to the rest of your team. Have selected people create the slide presentation, oversee the script or introduction for the webinar, create the registration page, create graphic materials, and more. 
5-4 Weeks Prior to Your Webinar
☑ Create a promotional strategy
Create a promotional strategy that will work well for you and your webinar. Think carefully if social media will be your primary promotional medium, or if you will rely solely on email marketing. If social media is a big part of your strategy, consider making a branded and unique hashtag for your webinar. This will lead to user-generated content and better awareness. 
☑ Compile promotional materials/media kit
Once you have created your promotional strategy, you need to create and compile promotional materials or a media kit for your webinar. Create the email invitations, provide graphic social images, press releases or blog posts, teaser videos, official webinar banners, and more. 
☑ Start promoting your webinar
Once your strategy has been established and the materials are done, you can now start promoting your webinar. A month before the event is a good time to start the promotion. 
1 Week Prior to Your Webinar
☑ Get familiar with the webinar platform
Familiarize yourself with using your chosen webinar platform. Test the features and especially the various buttons or functions. 
☑ Practice delivering your webinar
Practice delivering the webinar with your team or presenters. This will ensure that you won't encounter errors or go over the assigned time. 
☑ Prepare webinar follow-ups 
Preparing the webinar follow-ups a week before the webinar can ensure that you'll be able to send them within 48 hours. 
Day of the Event
☑ Send a final email invitation
Send a final invitation in the morning as you can still garner a good number of registrations before the webinar. This can be the last urge for some late registrants. 
☑ Double-check everything
Double-check everything: your equipment, your internet connection, the slide presentation, the presenters, and of course, the webinar service.  
48 Hours After the Event
☑ Send the follow-up
It's important that you send the follow-up email within 48 hours, both to attendees and non-attendees. This includes the thank you email, additional content, on-demand replay, and more. 
☑ Analyze results and statistics
After the webinar, take a good look at your results and statistics. Know which platforms garnered the most registrants, find out the attendance rate and compare it to your registration rate, check your feedback, and more. You can then use these benchmarks to move forward to your next webinar.