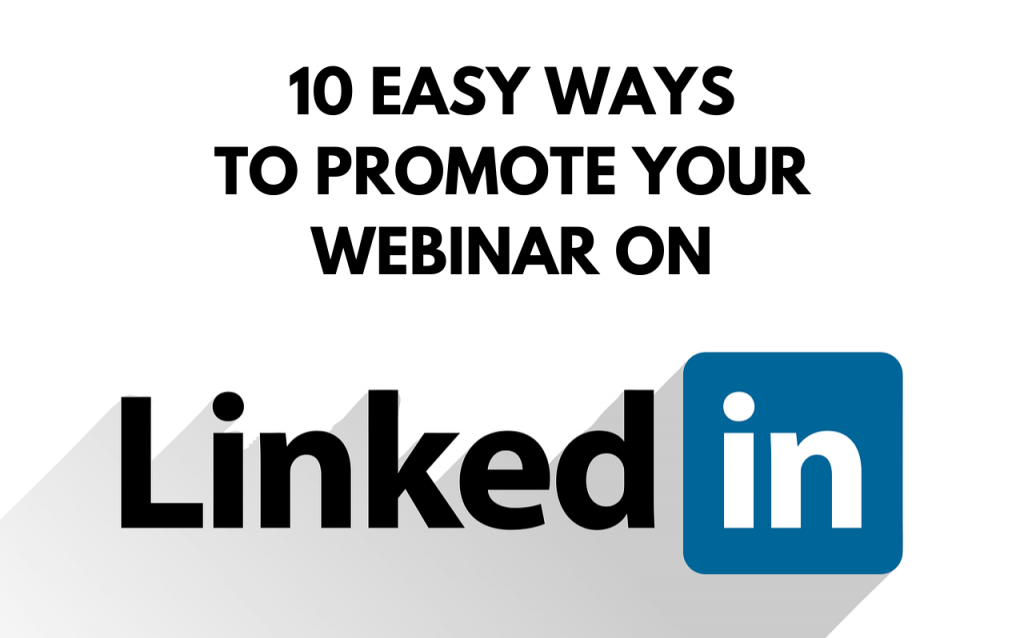 Social media is a significant part of the webinar planning and promoting, that much is undeniable. However, to utilize social media promotion effectively, you must keep your target audience in mind as you plan your strategy. If your target audience is mostly professionals or a B2B audience, LinkedIn should be your focus. According to studies, 80% of B2B leads come from LinkedIn. Promoting your webinar in such a  valuable environment is a must, and you should do it smoothly. 
How to promote a webinar on LinkedIn:
Create the registration page
First and foremost, you need a well-developed registration page for your webinar. On this landing page, make sure the essentials are included: the webinar title, the webinar banner, the description, the time and date, and the speakers. You can also include concise yet compelling reasons why your audience should sign up for your webinar.
Find a managed webinar service that lets you create a nice registration page that will capture significant details of your audience. You can also integrate with a landing page of your own choice.
Use images
Images make LinkedIn posts better. They draw attention and curiosity than regular text posts, and as a result, you'll have more chances of registrations. Studies show that readers spend more time looking at the relevant images than they do reading text on the page. It's also important to note that people retained 65% of the information three days later if there was a relevant image in the post. 
Use video to introduce the speakers
Just like images, videos are a great way to draw attention to your webinar. They also happen to be more engaging and effective, especially when it comes to letting people know more about your webinar. Have your webinar speakers introduce themselves via videos. Let them talk briefly about the webinar topic and encourage the viewers to register. 
Create related content
Creating content related to the webinar topic can help drive promotion and registration. Write an article on LinkedIn or share a recent blog of yours that is related to the topic of the webinar. You can also create infographics or short videos to create more buzz for your LinkedIn webinar. Include the CTA on these various content and you can go and share it to LinkedIn. 
Utilize Sponsored Content
Once you've posted organic posts, you should also make use of sponsored content. This will help you further increase exposure and target other audiences. Choose well-performing posts and customize the targeting options so you can attract a specific demographic.
Try LinkedIn Ads
Apart from sponsored posts, you can also try the LinkedIn Ads. These are slightly different from sponsored content as they don't appear in the user's feed, and instead can appear in search results pages, sidebar, and more. 
You can try Text Ads in which you can choose the professional audience you want to reach. Or you can utilize Dynamic Ads which is more personalized for your preferred audience.
Utilize LinkedIn Lead Gen Forms
Another way to generate more registration sign-ups is by utilizing Lead Gen Forms. These allow you to collect higher-quality leads from your ads by showing the users forms that are pre-filled with the information pulled from their LinkedIn profiles. This makes the process easier and faster, and you get better leads for your webinar. 
Share to relevant LinkedIn groups
Sharing to relevant LinkedIn groups is a great tactic to promote your webinar as well. If you're part of a group with other professionals in the industry or an organization, make sure you share it with them.
Keep promoting after the live webinar
Even after the webinar has ended, keep on promoting it. Tell people to join in for the on-demand viewing, share a few insights discussed in the live event, post about your speakers and say thanks or share their own published posts about your webinar. Any of these is a form of promotion and it will help you gain curiosity from people who didn't have a chance to attend your webinar. 
Analyze and measure success
Make sure to track your success by using UTM parameters or third-party tracking supported by LinkedIn. Go back to all campaigns and ads and take a look at the numbers. Which posts did well? Which ads received the most number of clicks? Take all these results and keep them in mind the next time you promote your webinar on LinkedIn.