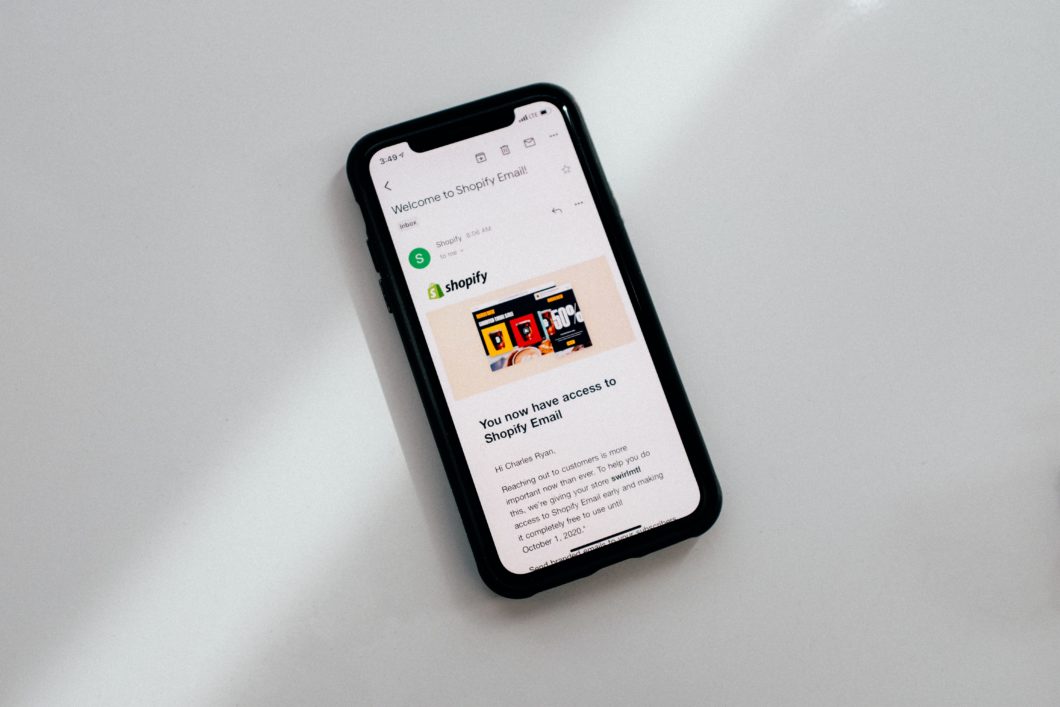 Get More Open Rates with these Webinar Follow Up Email Templates
According to WoodPecker, follow-up emails are the foundation of a good webinar sales funnel. These emails drive more registration, boost show-up rates, and increase post-webinar conversion. If you don't already have a webinar sales funnel, or you're still struggling to create one, this guide on using webinars to improve your sales funnel might help. Now that that's sorted, let's focus on the questions you're here for: How do you write a good webinar follow-up email? Are there formats you need to know?
The short answer is, yes. We've gathered the best example templates for your webinar follow-up emails so that you can maximize your webinar sales funnel.
Appeal to their Sense of Urgency
One of the purposes of the follow-up email is to drive registrations that your first invitation missed. There are many reasons why your initial email may have been overlooked, but one way to view the situation is that people are busy. If your invitation doesn't sound urgent, they probably won't get to it right away. The follow-up email lets your audience know, "Hey! You might have missed something you would find interesting. Here it is again."
This sentiment is what you should keep in mind when writing your second email. You can do this by providing more information that your first email lacked. Even a simple bullet point list describing what topics will be discussed in the webinar can be enough. If you can instill a sense of urgency, all the better. If your webinar is free, indicate that you have limited slots to motivate your prospects to register. If it's a paid webinar, a time-sensitive discount locked behind a countdown may do the job. It doesn't have to be fancy but it has to be compelling.
As much as possible, you want to avoid the scenario where your recipient overlooks your emails twice. At that point, sending more emails is akin to walking on a minefield. You want to avoid harassing or convincing the people on your mailing list to unsubscribe. The more emails you send, the likelier this will occur. As much as possible, strive to get that first follow-up email right.
Here's a template you can use that'll give you a better idea of how to write a follow-up email for increasing webinar registrations:

Show Up, Show Out!
You got people to sign up, great! Now you have to make sure they show up. Engagement and hype is the sentiment behind this stage of your follow-up emails. 
A great way to boost engagement and show-up rates is by giving your prospects the opportunity to make an impact on your webinar. Involve them in the preparation by asking them what questions or topics they'd like to be tackled in the event.
The important thing is to make sure they feel they are part of the webinar even before it starts. Get them attached to your presence early, so they'll be more hesitant to miss it.
They are more likely to show up if they feel they can get information and answers to the questions they have in mind. You can hype them up even more by providing additional content that can satisfy their curiosity while waiting for webinar day to arrive. Add an Add to Calendar link to make sure they don't forget when the event is, and you can even incentivize by giving them a referral discount when they invite their friends or colleagues.
To sum it up in a convenient and easy-to-remember phrase: "Make sure they don't forget and promise them they won't regret."
Here's a template you can use as an example. Send your modified versions at the most optimum times for follow-ups: 1 week before the webinar, a day before the webinar, and the day of the webinar, depending on your needs.

You Thought It was Over, Sorry, Not Yet!
Even if you're confident that the content you offered in your webinar was spectacular, it's important to be grateful that your attendees showed up. You want your prospects to become customers so it's in your best interest to thank them for their time. Capture this sentiment through your post-webinar follow-up emails.
Aside from the standard thank-you's, try to show your appreciation to them in other ways. Send post-webinar content to deepen their understanding of the topic. Ask for feedback to show that you value their experience and want to be better for them. You can even set-up 1-on-1 meetings and inform them of future events they may want to join. Whatever you choose to do, reach out to both the people who showed up and the people who didn't. 
Regardless of attendance, both sets of people remain as prospects you're hoping to convert.
Below are 2 example templates that you can use as a reference. It's important you send your own version of the email immediately after the webinar finishes. If not then, a day after at the latest. You'll be free to stagger additional resources and future event notices once you get that initial after-webinar email out. As always, less is more and it's often better to have an email schedule set for future correspondence. The nice thing about sending out emails at the same time on a daily, weekly, or monthly basis is that you build expectations within the recipients. If you suddenly stop emailing them, they may go. "What happened to ______? Why aren't they emailing me anymore? I should contact them." As long as you keep the contents within your email curated and avoid sending too many follow-ups, getting positive reactions like this are well within your reach.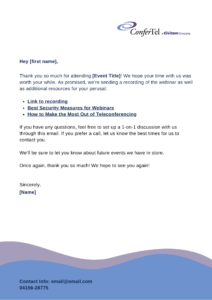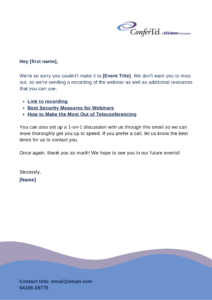 We hope you find use out of these sample templates. If you need more help with your webinar planning, check out our free webinar planning template. 
As a bonus, here are a few email blasts sent by actual companies. Not all of them are webinar emails, but they embody a good amount of what a webinar email should have. Some commendable features from each include:
Intriguing Subject Line

Personalization (Using the Recipient's Name)

A Concise Bullet Point List

Limited Time to Act

Discounts
Call to Action
These have all been pointed out in the images below. Enjoy!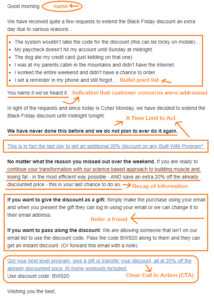 (Source: https://builtwithscience.com/)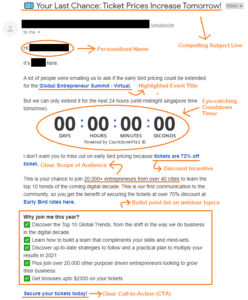 (Source: https://www.geniusu.com/)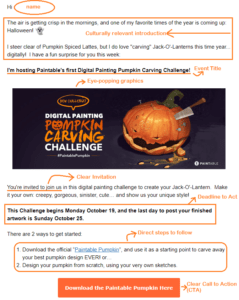 (Source: https://paintable.cc/)