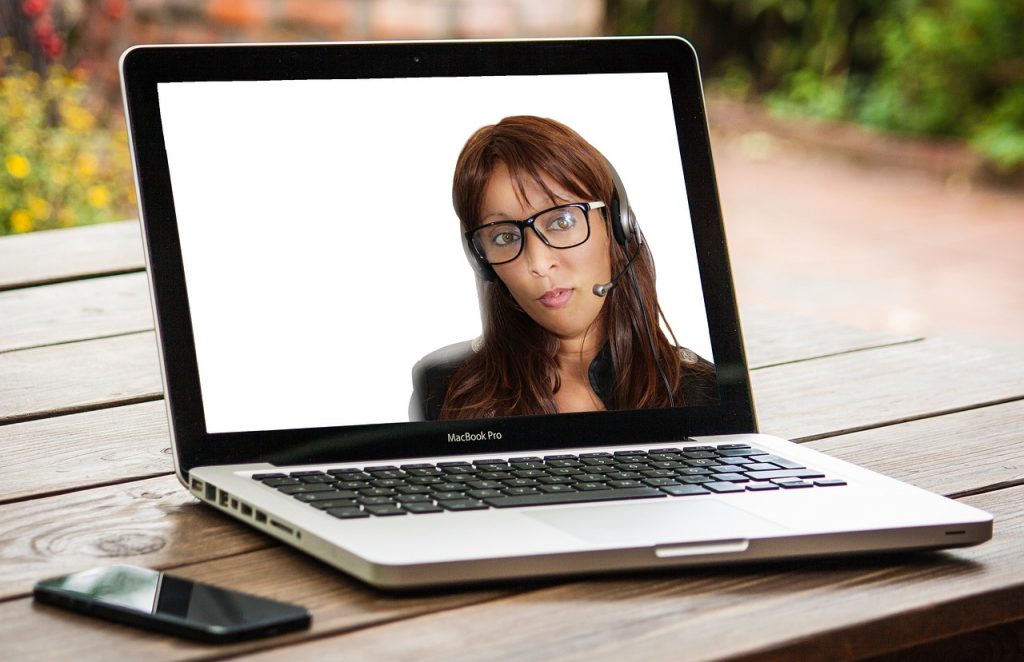 A webinar series is a series of interconnected webinars involving one main topic. This is one of the types of webinars that can attract the largest audience. It's also an effective way to generate leads over time and further establish yourself as a thought leader in your industry. The downside here is that a webinar series is a lot harder to manage and host. You won't just be doing a single webinar, instead, you'll be creating multiple webinars within a short amount of time. Naturally, it'll take more effort, more time, and more dedication as a result. You'd have to organize your sessions in a way that complements the whole theme of your webinar series while also ensuring that no individual parts are boring and unengaging. Luckily, we've compiled a helpful guide that can get you started. These 9 tips are certain to lead you on the road to success.
Tips to Host A Successful Webinar Series:
#1 Assemble a Dedicated Team
Assemble a dedicated team that will help you plan, manage and execute each of the webinars in the series. Since you'll have to create more preparations, content, and marketing plans to account for each webinar being hosted, having more people to help you out will ensure that you don't forget important details that can make or break the success of your webinars. Since the webinars operate together, there's no reason you should have to operate alone.
Map Out Your Key Topic and Subtopics
There should be a key topic or theme for your series, something that will unify all the webinar episodes and guarantee new knowledge to the audience. Choose a topic related to your niche that you know you can expand upon, then list down the possible subtopics for each of the episodes. This can help you map out the overall theme of your webinar series. Just be sure that you can give insight that you truly believe will be beneficial to others.
Write Down Your Objectives
Writing down your objectives will help you stay focused as your webinar series progresses and help you develop a clear picture of what you want to achieve in each webinar episode. Identify the main objective of the series as a whole, and then the specific objectives for each of the individual webinars. They may not all relate to each other, but these goals should always relate to the bigger picture. If they don't, they might not be the best to include in your webinar series.
Make a Webinar Planning Checklist or Flowchart
A webinar planning checklist detailing the necessary steps and timeline along with the person that will be responsible for each step will be a great help to you and your team as you organize each webinar episode. Additionally, a flowchart can help you visualize the management and process better. Consider this example of a webinar planning flowchart. With a clear and brief webinar planning flowchart like this, you and your team will be able to coordinate more efficiently.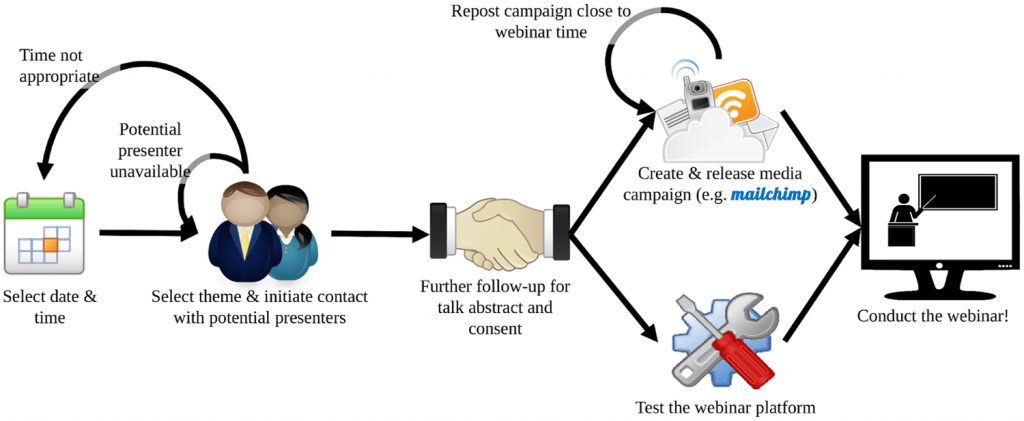 Promote Your Webinar Series Consistently
Consistently promoting your webinar is an important part of hosting a webinar series, especially if you want to make sure it's a success. You have to make sure that the number of registrants and official attendees meet your projections. The more attendees you have, the more people you can turn into leads and then into customers. 
To promote your webinar, make sure to use social media platforms and email marketing. Using various social media platforms will allow you to diversify your audience while using your mailing lists can help appeal to their personal side. 
Invite Experts and Leaders
Not only does inviting other industry experts and leaders as guest speakers allow you to leverage their audience, but you'll also be able to add more value and variety to your webinar series. This, of course, also allows you to build a relationship with them and get the chance to create a partnership that will benefit both of you. You're hosting a number of webinars anyway, why not treat your audience by mixing it up and treating them to special guests? You may learn a lot from these esteemed experts and their talks yourself.
Choose a User-Friendly Webinar Platform
As you will be conducting webinars regularly for a certain period of time, you need a seamless webinar platform that can guarantee a great experience for your attendees each and every time. World-class presentation features, secure payment processing for paid webinars, breakout rooms, and on-demand viewing access are just some of the features that can help enhance the webinar experience for your audience. Remember, you never know how many people will show up. Making sure your platform will work for every person that does is essential to elevating their overall satisfaction.
Send a Follow-Up
Don't forget to send a follow-up email to your audience. For the attendees, thank them for participating and offer more content or direct them to your service or product page. For the non-attendees, you can offer them your recorded live session and entice them to participate in the next one.  These follow-ups are a great way to convert qualified leads into their respective sales.
Use the Results of Your First Webinar to Improve on the Next Ones
After you successfully hosted the first webinar of your series, you should evaluate it. Did you do a good job of presenting? What was the feedback? How many registered and how many actually attended? Did the attendees have a smooth experience with the webinar platform? Did you answer all the questions? Analyze all of the details and see what you can improve on for the next episode. The benefit of hosting multiple webinars is you get to turn the tables around if things don't start out as planned.
Though a webinar series takes a lot of time and dedication, it can be beneficial in the long run. Keep these tips in mind to take your webinars to the next level and host a webinar series in the near future.