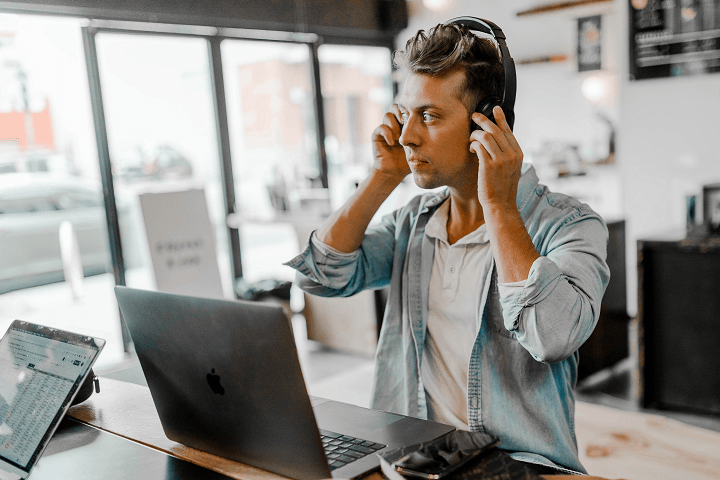 Conducting webinars can be a daunting task with a lot of moving parts to make them successful. There are a lot of things to consider, and a lot of things to be done before, during, and after a session. And with technology continuously evolving, it can get even more complicated.
As a webinar host, you should be able to adapt to the new demands of the new era. You should also be able to apply new techniques that can make sure you stay engaged with every demographic. This is essential, especially if you view engaging webinars as a tool to help you attract new clients or partners and generate leads while we navigate through the new normal. According to the Content Marketing Institute, 58% of marketers use webinars for lead generation and they reported that 20%-40% of their webinar participants turn into leads. 
We're here to help you get the most reach out of your campaign using a webinar. Here are 12 best practices you can try to double your engagement and ultimately increase your leads as well.
Before the webinar
Create compelling webinar invitations
Webinar invitations can make or break your registration performance. You have to make sure you come up with an eye-catching design and compelling content. Make sure the title of the webinar isn't too long. It also helps establish credibility if the speaker's name and expertise is included. You can also make use of banner images to catch people's attention. For the webinar description, entice people to attend by telling them what they can expect or learn from the webinar. 
Promote your webinar extensively
There are tons of effective ways to promote your webinar, and most of them definitely involve the internet. Undoubtedly, the internet is a powerful tool that can help your webinar get exposure to the right people and even attract new audiences. You can utilize emails, press releases, pop-up windows on websites, and of course, various social media platforms. 
Find a reliable live captioning service
If you want to be more inclusive, you also need to find a reliable live captioning service for your webinar. This is to make sure that you can get the largest audience possible and that you can cater to people with disabilities. You can easily find closed captioning service for webinars online, which can provide real-time closed captions during the live webinar. 
Invite esteemed speakers
Inviting other esteemed speakers and panelists also helps. This gives the webinar a new depth and adds credibility to the content you are presenting. Their knowledge together with your expertise can make the webinar meaningful for your participants. 
Get a moderator
Having a moderator is a wise move to achieve engaging webinars nowadays. A great moderator can provide introductions, engage with the audience, get the Q&A going, and other additional support before, during, and after the session. A webinar moderator adds a level of professionalism to your event.
Be prepared
Best of all – be prepared. Practice your presentation before the day of the webinar and make sure you stay on track with your timing. 44% of attendees said in a survey that they prefer 45-minute long webinars and 41% of them said they prefer 30-minute long webinars. This means you have to be wary of your time and make sure you get through the entire scope of your topic and allow time for the question and answer session.
You also have to consider the format or structure of your webinar. Webinars can be simple presentations or discussions involving one or two presenters or even a panel. They can also be an interview-type webinar where an expert or an influencer is invited as a guest. There's also a product demonstration webinar made to promote a product rather than to discuss a topic. And of course, there's a Q&A webinar where a single person or a group of people just answer questions from start to finish. How you go through the webinar will definitely depend on your chosen format.
During the webinar
Keep your presentation precise and vibrant
People can get distracted easily and with a presentation that contains too much information, is dull, and is not sparking any motivation or inspiration, this will truly be a problem and participants might start dropping off.
Keep the contents of each slide precise; use bullet points, take note of word limit, consider the font style and size, and use main keywords. You also need to keep it vibrant, with not too many colors or unnecessary animations, but just enough elements to keep the audience focused and/or inspired. You can also maximize your presentation by using other forms of visual materials like infographics, charts and graphs, and even videos. 
Share success and case stories
It's also good to share success or case stories with your audience. It can be your own, it can be your client's, or even your friend's. You can use images and/or quotes to help bring emphasis to the story. Sharing these success stories will help inspire your audience and encourage them to listen to your presentation. 
Let the audience participate for an engaging webinar
One of the most important things to do during the webinar is to let the audience participate to keep them engaged. Engage with them every now and then; ask a question, take a poll, and let them share their own experiences or comments. A Q&A portion at the end of the presentation is also encouraged especially since 92% of webinar attendees want a live Q&A session at the end. With the help of a moderator in the Q&A, you will be able to assess what your audience learned or what they didn't fully understand.
After the webinar
Conduct surveys
Most webinar hosts nowadays either forget about the post-webinar surveys or just won't bother with it in the first place. However, sending out surveys is an important aspect of the webinar and it should definitely be practiced. These things are a great way to collect feedback from the participants and valuable information. In turn, you can apply this feedback and extra information to the next webinar or to your business.
Transcribe your webinar
Transcribing the webinar is definitely helpful, especially for those that involve medical, research, technology, and more. Your webinar can be a source of new information and its transcription will make sure written data is available and can be used or referred to in the future. 
Distribute your webinar
Recording and distributing your webinar to make it accessible for the participants and post-live registrants is also a good webinar practice. Participants can utilize on-demand viewing and replay your webinar whether for research or reference. While post-live registrants, people who signed up after the webinar that is, can still have the chance to catch up and watch the session. 
Common mistakes to avoid for much more engaging webinars
Too much hard sell
Poorly made webinar invites
Not conversational or dynamic presentation
Make sure you're maximizing your investment in your webinars. Keep these best practices in mind to conduct engaging webinars and find more leads for your campaign efforts.